There's something about participating in The Culinary Olympics that makes me hear the Rocky theme song in my head. I keep wanting to run through the city and find a long staircase to run up.
BloggerAid: Changing the Face of Famine (BACFF)
is hosting an event to promote both our sport (food) and mission (to actively promote the allevation of world hunger).
We have until February 28th at midnite to submit a recipe that represents your country to
blogs4famine(at)gmail(dot)com
.
BACFF has been actively working to raise funds and awareness of world hunger. Just this past November they completed The BloggerAid Cookbook. All of the recipes in the cookbook come from foodbloggers around the world. I have my own copy -- it's a very impressive accomplishment, completed by a devoted group of volunteers.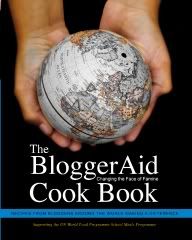 100% of the proceeds target children and education through the World Food Programme called
School Meals
.
Purchases can be made by clicking the cookbook cover above.
Representing Canada, here is my submission:
Dukkah-Rubbed Salmon with Honey Tarragon Potatoes
The salmon is rubbed with
Oregon Dukkah
(I also added some paprika). The salmon is from Atlantic Canada. The rub is from the States. But, what's more Canadian than a recipe that includes American-produced ingredients? The rub was nice, but tasted mainly of sesame seeds.
The potatoes are a variation on
this recipe
. Except this time, instead of a plain dijon, I used a honey tarragon mustard. It was excellent!
This mustard come from
Mrs. McGarrigle's
, a well-known local manufacturer of mustards/savouries/chutneys/preserves/sea salts/peppercorns. Any food specialty store you go to in Ontario carries a range of Mrs. McGarrigle's products.
The Olympics
start in one week. I hope you'll participate in The Culinary Olympics!